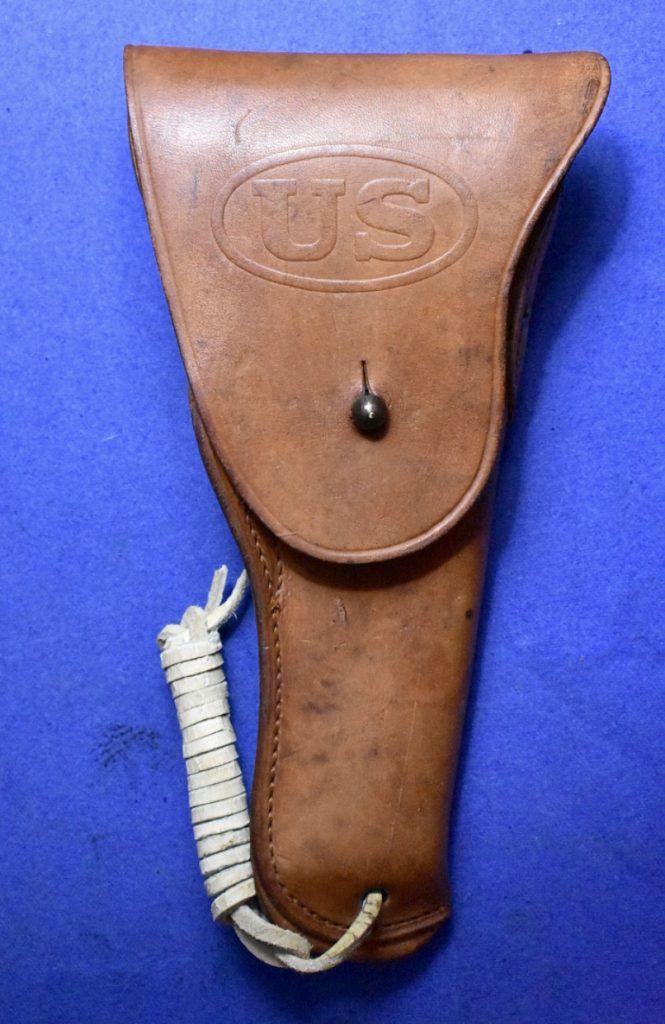 US WW2 M1911 Holsters……an Overview of the M1916 Belt Holster
You can catch up on part 1 here.
Probably one of the most straightforward and easy types of Holster to discuss, and certainly one of the most commonly collected, is the US WW2 M1916 belt holster for the models of 1911 service pistol. Shoulder holsters were widely used as well and we will discuss those at a later date. What follows, in this post, is a general overview of some basic information.
HISTORICAL CONTEXT AND ACTUAL USE
From the time that war broke out in late 1941 until sometime in late 1943 almost all the holsters used by the American Forces in the field were leftover from WW1 as were most of the pistols. It is very common to find a vet brought back WW2 Colt in a WW1 era issued holster. From an historical context a holster was a holster, they used what was available in the supply chain. 70 years later we collectors like to tidy things up a bit and stick WW2 made pistols in WW2 made holsters.
WHAT'S RARE?
The rarest of these holsters is  the BOYT 1941 holster. This was the educational contract that BOYT was awarded and few were made. The most commonly seen were made by BOYT as well, dated 42 and  44.  Because of how the contracts were awarded production dates of 1942 and 1944 are most commonly encountered while 1943 dated holsters are scarce and 1945 marked holster are as well, primarily because many makers stopped dating holsters sometime in 1944.  All WW2 made holsters were constructed of russet tan oil finished leather. There were 16 known US contractors for these holsters having their maker marks stamped on the back of the holster. Some are very common and some are rarely seen.
Below is the the breakdown of rarity solely based upon my observations:
A.L.P. CO. (Atchison Leather Products Co., Atchison, Kansas) RARE
BRAUER (Brauer Brothers Mfg. Co., St. Louis, Missouri) VERY RARE
BOYT (Boyt Harness Company, Des Moines, Iowa) VERY COMMON
CRAIGHEAD (John R. Craighead Co., Inc., Denver, Colorado) RARE
CRUMP (Benjamin T. Crump & Co., Richmond, Virginia) VERY RARE
ENGER-KRESS (Enger-Kress Company, West Bend, Wisconsin) COMMON
FINK (Fink Leather Shops, Kansas City, Missouri) RARE
GRATON & KNIGHT CO. (Graton & Knight Manufacturing Co., Worcester, Mass.) VERY COMMON
HARPHAM BROS. (Harpham Brothers Co., Lincoln, Nebraska) RARE
MILWAUKEE SADDLERY CO. (Milwaukee Saddlery Co., Milwaukee, Wisconsin) VERY COMMON
JOSEPH H. MOSSER (Joseph H. Mosser Co.) VERY RARE
S-B CO RARE
SEARS (Sears Saddlery Co., Davenport, Iowa) VERY COMMON
TEXTAN (Texas Tanning & Manufacturing Co., Yoakum, Texas) RARE
WALSH (Walsh Harness Co., Milwaukee, Wisconsin) VERY RARE
WARREN LEATHER GOODS CO. (Warren Leather Goods Co., Worcester, Mass.) COMMON 
Not everybody made holsters at the same time and many of these makers listed as very rare only made holsters in 1942. We hope this brief look at these holsters is informative. As you can imagine if you delve into the minutiae of collecting these holsters you can get sucked right in.  If you wish to do further research on the subject, we highly recommend the book U.S. Military Holsters and Related Accoutrements by Scott Medows :