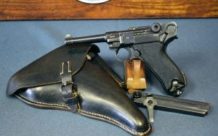 I am just now in receipt of the 1941 Black Widow Luger rig. The quality and condition of the gun, holster, tool and magazines are simply superior and at least a 98 plus rating as you stated. I would rate the entire rig as museum quality. The 1941 dated holster appears almost unused. I thank you very much for selling these items to me. The staff services at Pre98 are also outstanding. – With Best Regards, Steve Dunlap
My sincere thanks on the Garand. Can't wait to hold it. If you ever get to northern Illinois I'd love to take you to dinner! These firearms are just magnificent. My wife is excited too because we have identical 17 year old twin young men (not boys anymore!) and they are firearm enthusiasts and hunters. So safe and responsible…it's great to know that they and their friends by the dozens are 2nd Amendment and Conservative supporters. The news makes one presume that blue state residents could not possibly fit that profile. The news is wrong!!

This sounds sappy, but I want you to know that you are making a huge impression and impact on some 17 year old lives. They love history, and these guns have stories that we wish they could tell. Since they can't, we tell them for them. And they are vivid, brilliant stories. Thanks for making that possible! – Thanks, Charlie
I just received the order I placed yesterday for the Mauser HSC. I want to start off by saying how impressed I am with your customer service. I believe the success of any company depends on that,you guys exceed it!!! I now want to talk about the gun. It is more than I expected. I can't tell you how pleased I am.The only thing I can say is that I will only deal with your organization for my future collecting needs. – Thank you and best regards, John Degioanni
I am in receipt of the 1941 Walther P-38, associated magazine and holster. I would like to thank you for the selling of these item. They are exactly as described and in 98+ condition. They are a perfect compliment to the 1941 Black Widow Luger I purchased from you some time ago. Both are in equal condition. It is always a pleasure doing business with you and your fine company.  – Sincerely, Steve
The Mauser 42 code 98k showed up today. The rifle looks good!  Thanks again and I'll keep checking your website for goodies that might be of interest to me. Looking forward to seeing more of your goodies in person at the SOS next month.  – Greg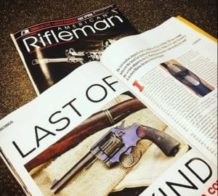 One of the more historic, and prized guns, a 1909 Colt USMC, that we sold to one of our terrific clients, was featured in American Rifleman magazine January 2018 issue.
I've bought equally pristine pieces from Pre98 and the only thing better than their vintage firearms is their customer service. Great guys and soooo knowledgeable.
Thank you so much for taking such good care of me, the M1892 Lebel Revolver & holster arrived at B & K Sales safe and sound, it is perfect, my gratitude! – Maurice "Meath" Dunne
Vz arrived today and we are well pleased with it. Thanks for your courtesies and quick shipment. Will watch your site for further such offerings. – Kind regards, Craig
I don't know how you find so many wonderful things I gotta have. Got the flaregun and wanted to say 'thanks!'. – Regards-Bill
I wanted to take a moment and thank you for helping Mark and I with acquiring this FN slide P.38. It is truly one of the finest examples of a wartime P.38 we have seen and surely the nicest we have been fortunate to add to our budding collection. – Best Regards, Marv
The Baby arrived safe and sound – what an outstanding example! Really top-notch and worth every penny.
Thanks for a nice, smooth, straightforward experience. It's always nice to deal with professionals. – Best regards, Bob
I just wanted to let you know that I received the rifle today, and it is exquisite.  Thank you for your help, excellent packing and fast shipment. – Dennis
Tell everyone thanks, the Colt is beautiful. I  love the great  hat, wish I had one for my son. Merry Christmas – David S.